Earn by Selling Your Flashcards at DECKU Flashcard Online Store!

You can now easily create unlimited flashcards at our DECKU Flashcard app and sell them to users who use Apple devices; iPhone, iPad and iPod Touch.
How do I sell flashcard? 1. Only DECKU Flashcard members are able to upload flashcard for sale.
2. Our online store offers an easy platform for seller to create your flashcards to sell it on the app DECKU Flashcard.
3. DECKU Flashcard app is only available on the App Store for iOS devices.
4. Once uploaded, you'll need to wait 7 days while we review your flashcards. You'll receive an automated email with a status update.
5. Every time a user buy your flashcard, you earn money from commission.
6. Money will be transferred into your Paypal account on PAYDAY of each month.
What kind of flashcard can I sell? 1. You can sell any kind of flashcards, all subjects are welcome to upload to DECKU Flashcard Store. All levels are accepted, Undergraduate, Master, Professional and Specific job are fine.
2. Make sure you create original work that you have made by yourself. We will reject anything that is copyrighted, stolen or publicly available, so your own flashcard is the best!
3. Only strong quality content are approved.
4. All prohibited or illegal content are not allowed. The following types of content may be classified as prohibited:
• footage of real or simulated violence, criminal activity or accidents from video clips, games or films.
• sexually explicit content.
• images of child sexual abuse.
• content that advocates the doing of a terrorist act.
• content instructing or promoting crime or violence.

How much do I earn for my created flashcard? All flashcards sell in Apple Store are deducted 30% commission from Apple. After that, for every successful sale, you will earn 30% commission, DECKU Flashcard takes 30% commission to cater for online store system, app support, content hosting, marketing as well as payment processing and Fee10% for DECKU discount promotion, currency exchange rate.


| Apple (30%) | You earn (30%) | Decku (30%) | Fee (10%) |
| --- | --- | --- | --- |
| 30% | 30% | 30% | 10% |

We do reserve the right to discount flashcards (for example, when users buy losts of coins, use promo codes or share their purchases through social media), however, even in this situation you still receive your 30% commission.

There is no limit to the amount of money you can earn from your flashcards.
How to set a price to my flashcard? 1. After you have created your flashcard, you can enter a price for each deck.
2. Once you've submitted a price, it will automatically appear in DECKU Flashcard Online Store. This will enable other users to view it and buy. Each time you make a sale, you earn money

| | |
| --- | --- |
| Decku | USD ($) |
| Free | $0.00 |
| 10 | $0.99 |
| 20 | $1.99 |
| 30 | $2.99 |
| 50 | $4.99 |
| 100 | $9.99 |
| 200 | $19.99 |
Decku coins value

1 Decku coin = $0.03 USD
How do I get paid? After your flashcards are sold, you will earn money in the next 2 months.

You can make a "Payment Request" after proceeds earning at least $100 (US) in your account.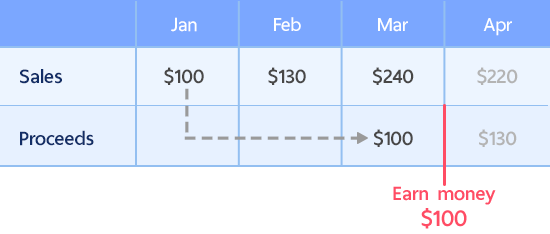 We pay commissions at the beginning of each month on 'PAYDAY'. You should request payment on or before 25th day of the month so as to get paid before 'PAYDAY' in next month.

All payments are made through PayPal, meaning that you do need to have an active PayPal account (linked to an active bank account). Make sure your PayPal email is entered correctly in the bank information on your profile in DECKU Flashcards Online Store System.
Tips for seller : How to boost up your sales. 1. Adding title name of deck that include full name of the subject to attract users.
2. Adding good description and keywords can get the higher your chances of selling.
3. Sharing a link to download your flashcard through social media such as Facebook, Twitter, Pinterest and Whatsapp.
4. Promote your link to target group can increase your earning such as students noticeboards or educational groups.
Can I edit or remove my flashcard? 1. To update or change content, info flashcard, price, or others, you can do it on DECKU Flashcard Online Store System.
2. If you want to remove your flashcard from our platform, just fill out the request form and we'll fulfil your request within 7 days.
Start Selling your flashcards and earn money!
If you have any question, send us an email at

[email protected]